Connecting hotels with travellers
Are you ready to join HiJiffy?
We are looking for talented people that share our vision and want to bring our innovative solutions to the hospitality industry. Ready to come on board?
Hear from our Team
Since I joined HiJiffy, I've been able to help the sales team close some deals and keep our customers happy. My background is in hospitality operations, I feel that I can contribute to our success while learning a lot from the experienced and bright HiJiffy team.

Miguel

Customer Success Team Lead

I embraced the opportunity to integrate the hard-working HiJiffy team and collaborate on a solution that helps to connect the travel industry with people. I really enjoy the collaborative and engaging environment where your opinion is always taken into account.

Pedro

Lead Developer

It's a real pleasure to work with such a united team. Everyone is pushing in the same direction and you can feel it! Passion and drive I would say is what describes this team best!

Marta

People & Finance Team Lead

The togetherness of every team and HiJiffy as a whole creates a welcoming and supportive work culture. Everyone is in a position to make an impact and contribute to shared success.

Maciej

Senior Content & Brand Specialist
Our Values
Integrity

We do the right thing, always. We believe in long-lasting, healthy relationships and nurture them.

Growth

We are innovative. We leverage our technology and expertise to facilitate the growth of our employees, partners and clients.

Impact

We have a positive impact. We want to continue disrupting the industry and delivering much more than a good product.

Collaboration

We row together. We believe collaboration is the backbone of our success.

Global

We are everywhere. We seek connections on a global scale to serve our world and deliver an exceptional product.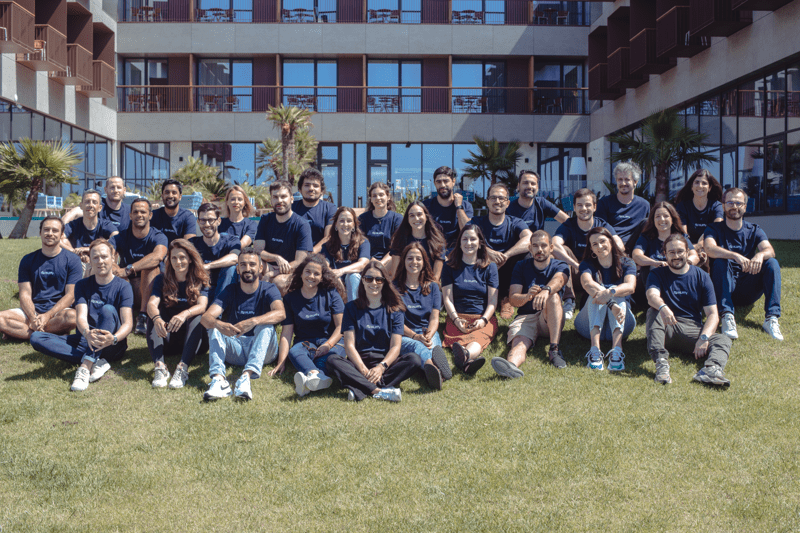 HiJiffy Perks
Attractive salary, great work-from-home equipment and supportive and inclusive work culture are the basics. Then, we offer something extra.
Flexible perks scheme

Get an annual allocation of a personal budget to spend on wellness, training, home office equipment, mobility, cheque creche and more. You know best what you need.


Medical insurance

We want you to feel safe and taken care of. When you join HiJiffy, you'll be enrolled in a medical insurance programme.


Birthday day off

Celebrate your special day by doing whatever you like. If your birthday falls on a weekend, take a Friday or Monday off and enjoy a long weekend.


Volunteering at work

We encourage everyone in our team to support a cause of their choice. Use your time allocation to give back to the community during working hours.

Employee referral fee

Do you happen to know someone who'd be a great addition to HiJiffy? If they become a team member, you'll get an employee referral fee to celebrate making new connections.

Free stay at a client hotel

Treat yourself to an annual two-nights stay at one of our client's hotels of your choice, subject to availability.
Quarterly meeting - Q2-23
Sines, Portugal
Quarterly meeting - Q1-23
Monte Real, Portugal
Quarterly meeting - Q1-22
Praia d'El Rey, Portugal
Blog highlights
Quarterly Meeting recap - Q3 2023

In July 2023, we gathered in our new riverside office in Lisbon and sailing on the River Tagus.

What is it like to be a parent at HiJiffy?

Parents in our team shared testimonials of their experiences combining parenthood and career.

Working remotely at HiJiffy

An overview of our remote work culture and perks, benefits and policies that help us make the most of it.
#workatHiJiffy
Learn what it's like to be part of the HiJiffy team by exploring our remote work culture, quarterly in-person reunions and more...
Visit the blog
About HiJiffy
HiJiffy was founded in 2016 with the mission to develop the most advanced conversation AI for hospitality. Seeking the perfect connection between hotels and their guests, HiJiffy created a powerful Guest Communications Hub.
Powered by its proprietary AI - Aplysia OS - across the full guest journey, HiJiffy allows hoteliers to increase revenue from direct bookings and upselling while automating repetitive tasks to reduce operating costs and mitigate staff shortages.
In 2023, more than 1,800 hotels in over 50 countries reimagine guest communications with HiJiffy's omnichannel solution featuring cutting-edge tech innovations like self-learning AI, sentiment analysis, voice assistance, GPT-4, and more.